Space Robot Scientists (Commack, New York) is:
Andre Bermudez (vocals, guitar, drum sequencer)
Matt Dallow (backing vocals, keyboards)
Sean Corkery (bass)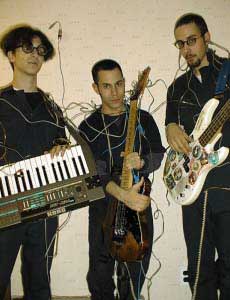 The Space Robot Scientists are a band with a mission to get you to cha-cha-cha. They hail from Commack, New York, armed with an array of electronic gear to make you "dance like Colin Ferguson". They have been one of the more original of the recent Long Island non-core scene, together with the Microwave Orphans (for whom Dallow plays as well), and the now-defunct Freaks From the Apocalypse (for whom Andre played guitar) of the past couple years.

I, Crazy Pablo, being the grand hipster that I am, was able to snag an exclusive Taco Wagon interview with Matt and Andre recently. SRS is one of my favorite bands right now, and I think everyone should get their first CD "At Home With Machines". It is only $6 directly from them. Click on the link to the SRS site to get more information.

Crazy Pablo: What are your names, what do you do in the band, and why?

Matt Dallow: I do a lot of things, but in this band, I play the synthesizer.
Andre Bermudez: I sing and dance, play the guitar and tell our drummers what to do and when to do it.

CP: How old were you when you realized you wanted to be in a weird band?

MD: Well, by age fifteen, I was ready to be in any band, but every band I joined I was only in for a few days because I always wanted to do something too weird. I was in a ska-punk band for about 2 days. I think they got annoyed when I suggested adding jaw harp into it and not playing constant major chords.
AB: About seventeen, I was in my first noise hardcore band a la scapegrace/sonic youth and pink floyd, before that I was in metal, punk, and prog(ressive) rock bands.

CP: Did you two ever play in bands together growing up weird?

MD: About two or so years prior to the formation of Space Robot Scientists, Andre and I collaborated on one song entitled "All in a Day's Work". It can be found on one of his solo tapes, I believe. I played a reed of grass, and jaw harp on it. Andre did the keyboard and drum sequencing on my drum machine.

CP: What's the deal with VMS records? Do they give you money when it sells, or do they take it all?

MD: I think VMS records are homeless right now.
AB: They ask us for money, not give us money. We're actually distributing their label through our band. They're signed to us (just kidding).

CP: Have you ever heard of Narduwar the Human Serviette? Seen his interview with Rollins?

MD: No.
AB: No, no.

CP: That's too bad. He's this weird Canadian guy who asks weird questions and pisses off people like Henry Rollins and the guys from Quiet Riot. A real hoot. Have you ever dreamt of being a seventy year old blues singer from the Mississippi Delta?

MD: That actually is my dream. All's I need is to smoke more, which would be hard. I'd have to stop sleeping and being productive, to get my voice more raspy, and get better at piano.
AB: I've already done that. It's not all its made out to be.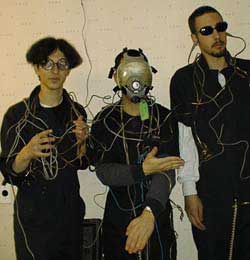 CP: If given the opportunity, would you ever play with me again after the fifteen minute Massapequa Bowl set?

MD: Absolutely! I can't wait for the next Caroline's Pneumatic Drapery reunion.
AB: Well, everybody gets their fifteen minutes of fame Pablo, and playing with me was yours.

CP: Don't you think that your new bass player Sean is too tall to be in your group?

MD: No, he raises the average height of the band, which is good.
AB: The height curve of the band is inverse to the age curve. It's interesting.

CP: If you could have any piece of equipment what would it be?

MD: Either a musical saw, or a really good Moog analog synth.
AB: A Gibson Firebird.

CP: What or whom inspires you to create such weirdness? Subway shootings?

MD: I think my parents. They're so normal that they're insanely weird.
AB: What's weird? I am not weird. Everybody else is weird.

CP: How does it feel to have someone who should know the answers asking you dumb and/or obvious questions?

MD: Great!
AB: Perhaps you should answer that question for me Jon, seeing that you know all the answers supposedly.

CP: Anything else you'd like to add to this?

AB: 4,900,840.971.

Space Robot Scientists' Official Web Site