The Gladstones (Boston, Massachusetts) are:
Greg Kerwood (vocals)
Kevin Condon (guitar & vocals)
Mike Scotti (bass guitar)
Jason Sakos (drums)
Mr. Ed Lyons (lead guitar)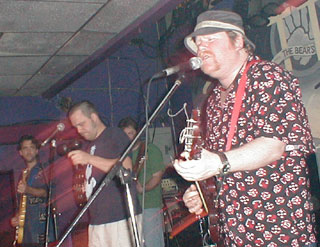 The Gladstones formed in 1998 by Kevin Condon (formerly of Green Factory/Because) and Greg Kerwood allegedly as an excuse to drink beer and make some music. After performing around Boston and recording their debut EP, "Maestro Rover", the pair found themselves with a CD and no band.

Then, in late 1999, they had the good fortune of meeting up with drummer Jason Sakos (formerly of Francine) who, along with bassist Mike Scotti (also of Green Factory/Because), complete the current lineup of the Gladstones.

All along their mission has remained the same; to have fun playing rock'n'roll!





DJ Mikey will be interviewing members of the band at the release of their new album, "Headlines & Pictures", on November 10th. Check back for the interview!



The Gladstones' Official Web Site