Bionic Finger (Brooklyn, New York) is:
Alina Moscovitz (guitar, bass, drums)
Nanon Turner (guitar, bass, drums)
Christine Murray (guitar, bass, drums)
Pam Weis (drums, guitar, bass)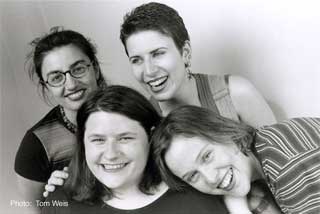 Bionic Finger plays dirty-haired indie pop songs about love, anger, sex, and sorrow. They swap instruments with an attitude that says, "Hey we know what we're about so bugger off."

A fan says, "Their raw guitar punches left me breathless and I didn't know what to do but fall on the floor and feel their pain in its entirety. Then I heard the most beautiful sound...I thought it was angels singing. I looked up and it was the girls in Bionic Finger harmonizing. Their voices dried my tears and taught me to love again."

Bionic Finger met at Drew University where Nan had a beat-up classical guitar, Alina had a $30 drumset, and Christine had her Dad's bass. Their line-up changed when they all decided to share the guitar and bass duties and leave most of the drumming to Pam, who Nan met at an acting workshop. The fearless foursome blazed a trail on the lower east side of NYC, to the delight of gutterpunks, antifolkers, and girlrockers everywhere!

Fiercely independent, Bionic Finger raised money for their first release "Inner Bimbo" by pre-selling it to fans. Since then, the single "A.S.S.H.O.L.E" has reigned the MP3.com top 10 Indie-Pop chart for months, while "Melting Ice" and "Guy In A Tie" can be heard on online and traditional radio across the country. Bionic Finger has played countless colleges in the northeast, as well as the CMJ Music Festival three years running. Bionic Finger will be going on their first national tour in March 2001.

They are deliriously excited and are working on their new dance moves, as well as a cover of Bon Jovi's "Living on a Prayer". They would like to ask that you keep them posted about any cheap but good used vans, as they need to purchase one before they hit the road.

DJ Pablo was lucky enough to meet with the band at a recent show, where they were kind enough to grant an interview and pose for pictures.
Click here for the interview!



Bionic Finger's Official Web Site

Check out the Finger! Pick up CD's right from here!




Inner Bimbo