David Dondero (San Francisco, California) is:
himself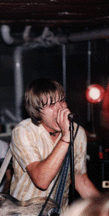 David Dondero is a gifted singer-songwriter/troubador who has been performing and touring the country since the late 1980's. In the early 90's, he was in the band Sunbrain, who recorded three albums for Grass Records before calling it quits. Now performing solo, David's work runs the gamut from personal to political and all points in between. His sparser moments remind me of Bruce Springsteen's Nebraska album, while the lush mandolin and banjo on other tracks beckons Appalachia. The twenty-five tracks on his two solo albums are wonderfully diverse and provide snapshots of life in our big, scary America, whether it be love lost ("No Affection") or the shootings in Littleton, Colorado ("Pity Party").

Matt Orphan and I were fortunate enough to meet David recently, though we were stuck at work too late and missed his performance that night. But he was extremely friendly (he hugged Matt at the end of the night), and he did agree to be interviewed by Taco Wagon, even though he hadn't seen the site yet. Having said that, he did see the Wagon before answering these questions, so it wasn't completely point blank. Since we had no idea we were going to talk to him that night on Long Island, we caught up to him recently via modern technology, and voila! Thanks to David for being a party to this, and to Matt Orphan for doing the bulk of the editing.



Crazy Pablo: You spent the early 90's playing in Sunbrain. Aside from that, there really isn't a lot of bio information floating around about you. Could you tell us a little bit about the Sunbrain years and how you started your solo career?

David Dondero: I was in Sunbrain from 1990 -95. Before that i played drums in a band called the Fat Stinkin Belgian Bastards from 1988-91. With Sunbrain, I played drums at first, then switched to singin' when our singer ditched us for some frat party. We found a better drummer and then I started tryin' to be a rock singer. It worked out for a few years and we put some records out on Grass. I wish we were still together, but a couple other members are grown-ups now and you know how that goes. I did start playin' guitar during that time and learned a lot from those guys. The record company we were on got bought out by some guy who ditched all the bands, switched the name of the label to Wind Up and now promotes that awful band Creed. It was a real heartbreaker, but what did we expect? So then I moved to Florida and started playin' in a new band called Flatwheelers. That lasted about a year, until me and the bass player kinda had a falling out. At the same time I played drums in my girlfriend's band This Bike is a Pipe Bomb. That lasted a couple years, and finally in '98 I decided to just do my own songs. My roomate Ted took over the drums for the Bomb and they've been rocking out together ever since. Getting better and better and I love them all a whole lot.

CP: You seem pretty quiet offstage. Was it natural for you to start singing in front of people or did it take a bit of coaxing from your friends to get you started?

DD: Ummm? I don't know. Maybe coaxing at first or my overwhelming desire to get attention. When you're a somewhat average person and feel anonymous it's nice to jump up and do something about it.

CP: You manage so well to vary your songs from the more personal to the political without sounding forced or contrived. So who/what would you say are your biggest influences as a singer/songwriter?

DD: The newspaper, people I meet, overheard conversations... Stuff I listen to: Paul Simon, Billy Bragg, Simon Joyner, Will Oldham, Smog, Tony Tidwell, Greg Brown, Roger Miller, Johnny Cash, George Jones, old Bruce Springsteen specifically "Greetings from Asbury Park", Townes van Zandt, Daniel Johnston, Fugazi, Rymodee, Jay Farrar, Jeff Tweedy, Conor Oberst [Bright Eyes], Ted Stephens, Bob Dylan, Woody Guthrie, Mississippi John Hurt, Nina Simone, Ted Hawkins, Stiff Little Fingers, Graham Parsons, Patterson from Drive by Truckers, Jonathan Richman, Ambulance, Tom Petty, Kent Stanton, Karate, Jeff Mangum [Neutral Milk Hotel], on and on and on and on......oh, Jimmy Smith, John Coltrane, Chet Baker, Tom Waits, Nick Cave...on and on blah bhlahhhhhhhblah.. yes.

CP: You have a lot of intensely emotional songs. Do you write autobiographically, or do you put yourself into a certain frame of mind and try to imagine what it must feel like to go through the kind of experiences you sing about?

DD: I write autobiographically - things that have happened to me or my friends or stuff that has shocked me that I've seen on the news.. a lot of reactionary stuff. Or maybe overly opinionated...but what the heck?

CP: I'd like to commend you for the song "Pity Party" off of SpiderWestMyshkin & a City Bus for your take of the Littleton, Colorado shootings at Columbine. I think it was the only song I heard about it that really dealt with why it happened and points the finger at the real culprit. Any other thoughts about it that you'd care to share?

DD: Melt down the guns...Make bicycle frames...and cranks and pedals, handlebars and seats. Take the new gun bikes and give them to socially disturbed people...Let them ride away from awful ridicule.

CP: Your first album (The Pity Party) sounds sort of like a rock singer transitioning into acoustic music...it's stripped bare, and there are more "rock" trappings than on your second album (SpiderWestMyshkin & a City Bus), which has banjo and mandolin on it, and sounds more like a "folk" record than "acoustic rock." Also, you said the next one was going to sound different from that. What's the next phase of your evolution going to sound like?

DD: I think the new one will be more somber and boring. Hopefully something good to sleep to. It's shaping up slightly 70's rock. 70's light rock. But i only have six songs done. I'm gonna record some more in April.

CP: The Plan-It-X Records website mentions that they are putting out a live album of yours. Will Ghostmeat be putting out your next studio album?

DD: The live one is actually three bands. This Bike is a Pipe Bomb, Operation Cliff Clavin, and me. It was live stuff recorded last spring when we all toured together. I think i'm gonna try to put out my next album all by myself. Under the No Label label. Distributed hand to hand personally at shows. Maybe a few record stores if I can find a distributor to help.

CP: You mentioned when I met you that you were heading out west to San Francisco. How are those plans coming along? Also, what does your tour schedule look like right now? You mentioned coming back east sometime around May or June?

DD: Yah, I'm in San Francisco now. Typing at 3 bucks per 20 minutes at this place on Valencia Street. A Russian coffee shop with mob books. Very nice. I'm gonna tour in the summer. It's looking like June and July. Probably with This Bike is a Pipe Bomb again.

CP: You play a lot of house shows and stuff. Who are some of your favorite people to play with?

DD: This Bike is a Pipe Bomb, the Devil is Electric, the Sissies, Lars Din, Bright Eyes, Lullaby for the Working Class, Kent Stanton, and it was really fun opening up for Jonathan Richman. He refuses to watch you, though. He's a nice fella anyway. Why would a rock star wanta watch me?

CP: What are your favorite 80's movies?

DD: Rock n Roll High School, Surf 2, X-mas Evil, Polyester, Fast Times at Ridgemont High.

CP: Who is your least favorite Beatle? If not Ringo, why?

DD: George Harrison, because I went to Maui in October and ended up befriending his gardener. The guys name is Steve and he works on the Harrison estate in Hanna. George pays Steve 8 bucks an hour. This is Maui, mind you. Not a lot of cash for Maui. The other groundskeepers and Steve asked George for a raise and his reply was "If you wanted to make more money, you should have picked a different profession." Old rich white George Harrison is a tight ass who doesn't spread the wealth. For that I give him 2 thumbs down. Boo George booo hisss....!!!

CP: What are some of the wackiest bumper stickers or billboards you have seen on your cross-country travels? The best bumper sticker I ever saw was "On the 8th Day, God Created Bagpipes."

DD: "Honk if you're a honky."

CP: Any parting words for our listeners?

DD: Tip your waiters and bartenders. They're saving to put out records and buy art supplies and stuff like that. Bye for now.



David Dondero's Official Web Site

Support David Dondero! Pick up CD's right from here!




The Pity Party